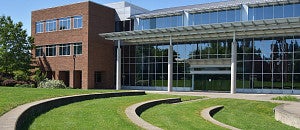 About the Ballmer Institute
Launched in 2022 with a $425 million gift from Connie and Steve Ballmer, the Ballmer Institute for Children's Behavioral Health at the University of Oregon represents a bold new approach to improving the behavioral health and wellness of children and adolescents in Oregon and beyond.

In the News
 
Background
The Ballmer Institute creates an entirely new profession, aimed at promoting the behavioral health and wellness of children and adolescents with an emphasis on early detection and prevention of mental health disorders. Child behavioral health specialists who graduate from the Ballmer Institute will enrich the behavioral health and wellness of children and adolescents across identities and abilities, from a variety of family structures and backgrounds, in schools, public health, and other health care settings. With an emphasis on prevention and early detection, these professionals will have a profound impact for generations to come.
---
Headquarters
While the Ballmer Institute will eventually reach across the state and nation, its efforts are initially based in Portland, Ore., where a partnership with Portland Public Schools maximizes impact of early efforts. A portion of the Ballmers' lead gift was used to purchase a 19-acre campus in northeast Portland. Starting 2023, the campus will serve as the new home to the institute, as well as other UO Portland academic and administrative programs and research centers, which are currently located in the White Stag Block in Old Town. The new campus is located near NE Holman and NE 27th streets.
---
Timeline
The bachelor's degree program is currently under development. Pending state approval, the first students will be admitted in the fall 2023 academic quarter. A series of graduate courses for education professionals in children's behavioral health will launch fall 2022.