A bold new approach to promote the behavioral health and wellness of children and adolescents in Oregon and beyond
Transformational gift establishes institute, new model of delivering critical behavioral health care services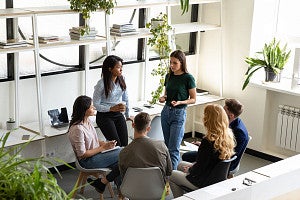 A new profession of child behavioral health specialists
"We are going to create the equivalent of nurses in the medical system. These will be trained child behavioral health professionals who can work in schools and other settings to promote healthy, positive youth development and provide preventative services."
-Jennifer Pfeifer, UO professor of psychology and affiliated faculty with the Ballmer Institute
A transformational gift
On March 1, the University of Oregon announced the establishment of The Ballmer Institute for Children's Behavioral Health, a bold new approach to addressing the behavioral and mental health care needs of Oregon's children. The Portland-based institute is made possible by a lead gift of more than $425 million from Connie and Steve Ballmer, co-founders of Ballmer Group Philanthropy.
Nick Allen, professor of clinical psychology and director of the Center for Digital Mental Health, was part of UO-led study to investigate the effects of smartphone use on mental and physical well-being. He is also a Ballmer Institute faculty member.
Bertranna Muruthi, assistant professor in counseling psychology and human services, joins the Ballmer Institute as an affiliated faculty member.
Timeline
A bachelor's degree program is currently under development. Pending state approval, the first students will be admitted in the fall 2023 academic quarter. A series of graduate courses for education professionals in children's behavioral health will launch fall 2022.
Latest news from the Ballmer Institute