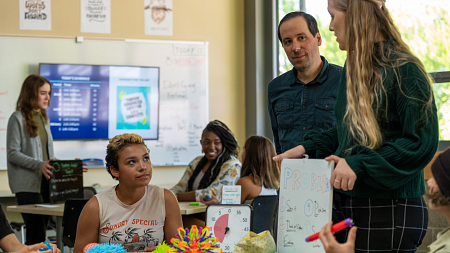 The Ballmer Institute for Children's Behavioral Health, along with Connie and Steve Ballmer, have received the 2023 Distinguished Friend to Behavior Therapy Award for their groundbreaking work to craft and implement a national model for a bachelor's-level specialty training program in children's behavioral health.  
This award is given by the Association for Behavioral and Cognitive Therapies (ABCT) to individuals and organizations that provide awareness, advocacy, or evidence-based behavioral health services in the field of cognitive and behavioral therapies. 
"This is a tremendous honor in recognition of our workforce innovation — the child behavioral health specialist — that will have its roots at the institute but an impact that will extend far beyond our campus," said Katie McLaughlin, incoming executive director of the Ballmer Institute. "This award recognizes the remarkable contributions of the UO faculty in the College of Education and Department of Psychology, and the staff and faculty of the Ballmer Institute who have built this pathbreaking training program. Other leading innovators have received this award and we are honored and humbled to be recognized alongside of them." 
Child behavioral health specialists will be trained to support youth behavioral health through early identification, promotion, prevention, and brief intervention. In building this novel program, training elements typically present only in graduate-degree programs have been brought into the institute's undergraduate major — including 700 hours of applied practice in community settings, such as schools and the healthcare system — that will be supervised by Ballmer Institute clinical faculty.  
"The Ballmer Institute is a wonderful example of the role public research universities can have in improving lives and the world around us," UO President Karl Scholz said. "As a university, we strive to have a positive impact in our community, state, and globally. We are grateful for the generosity of Connie and Steve Ballmer whose tremendous gift allows our faculty and staff to help address critical societal needs."   
With the first cohort of undergraduate students now enrolled in the undergraduate childhood behavioral health program, the Ballmer Institute's groundbreaking approach to children's behavioral health will continue to transform the Pacific Northwest into a national model of thought and practice in response to challenges currently faced in children's behavioral health. 
Launched in March 2022, the Ballmer Institute was made possible by an extraordinary lead gift from Connie and Steve Ballmer, co-founders of Ballmer Group Philanthropy. Connie and Steve Ballmer, along with the Ballmer Institute, will be honored for the 2023 Distinguished Friend to Behavior Therapy Award at the annual ABCT convention held in Seattle in November. 
Learn more about the child behavioral health degree program on the Ballmer Institute's website. 
-Ballmer Institute Communications