Dr. Randy Kamphaus, acting executive director for The Ballmer Institute for Children's Behavioral Health, and Ana Hernandez, Ph.D. student and graduate employee, joined Portland Public Schools and Lines for Life in a sit-down with U.S. Department of Health and Human Services (HHS) Secretary Xavier Becerra on Monday, February 27th. The visit included a tour of Faubion K-8 School, which sits directly across from the new University of Oregon Portland campus, and a roundtable discussion with Governor Tina Kotek, Multnomah County Chair Jessica Vega Pederson, PPS Superintendent Guadalupe Guerrero, PPS Board Members, and students. The conversation centered around the Biden-Harris Administration's commitment to addressing the youth mental health crisis and the impact the Ballmer Institute will have in the state.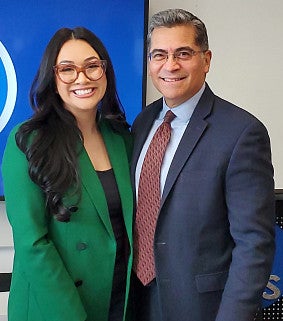 Students from PPS, youth delegates from Northwest Portland Area Indian Health Board, volunteers from the Oregon YouthLine, and Hernandez discussed the current state of children and adolescent mental and behavioral health concerns. One of the main priorities was the partnership between the UO's new Ballmer Institute and PPS.  
"With the Ballmer Institute in particular, that's a big piece of what we're talking about ... getting these providers into schools or other types of community settings," Hernandez, PhD in UO's clinical psychology program, said. "We're thinking about promotion and prevention and really thinking about how we can support youth before we start seeing difficulties." 
As reported by The Oregonian, the Faubion location was no accident for Becerra's appearance. The school is adjacent to the former Concordia University campus, which this fall will become the new home of the UO's Ballmer Institute for Children's Behavioral Health, an ambitious initiative that aims to send up to 200 undergraduates a year into area public schools for hands-on training in the field.
Kamphaus previously joined Becerra for his May visit to Portland in meetings with the Oregon congressional delegation and community leaders on youth mental health and workforce at Lines for Life and Portland Community College.