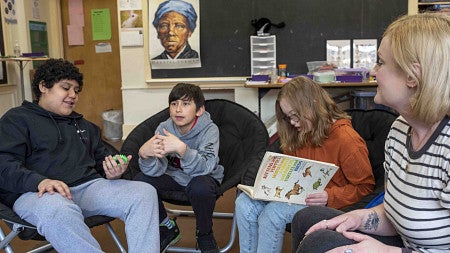 When philanthropy, community and higher education come together, youth are better served
Educators in our communities are committed to supporting and promoting the behavioral health of their students. Thanks to this commitment, donor funds, school district collaboration, and evidence-based research from University of Oregon faculty, educators are enhancing their skills and making a positive impact on the wellness of their students. The three-course graduate-level microcredential offered by the Ballmer Institute for Children's Behavioral Health at the University of Oregon Portland was created in response to a desire from educators to learn new techniques and tools that can be used in the classroom to help meet the growing behavioral health needs of their students.
"The graduate microcredential in child behavioral health is designed with working professionals in mind," said Dr. Katie McLaughlin, Incoming Executive Director for the Ballmer Institute. "This offering provides immediate support for educators and other youth-serving professionals by equipping them with evidence-based practices that can be immediately integrated into their classrooms or other settings."
Microcredentials give individuals verified proof of competency and field-specific skills gained through a learning series, and shows employers and professional networks that an individual has proficiency in a specific subject area. They provide individuals with hyper-focused education on a chosen subject and typically are completed within a short timeframe.
Approximately 80 educators from 14 school districts participated in the distance-delivered program, committing one evening per week throughout the academic year. The first cohort of educators will complete their coursework on June 16th. Two remote sections were taught by leading experts each academic term. The program covers timely and relevant information over three courses: Teaching Self-Regulation in Childhood and Adolescence, Trauma Informed Supports for Children and Adolescents, and Developing and Maintaining Healthy Relationships.
This innovative cohort design fostered relationship building and provided an opportunity to develop a community of practice with other youth-serving professionals. Each course included a field application component allowing professionals to bring research into practice within a supportive learning community.
"I am gaining tips and tools from my class on a Tuesday night and incorporating it into my classroom the next morning," shared Sara Elmore, Hathaway Elementary School fifth-grade teacher in Washougal School District. "With all that children are facing these days, I was excited to learn about the latest best practices and newest evidence-based research methods to help students who are experiencing trauma or having adverse childhood experiences, as well as helping students navigate home and school environments."  
Elmore goes on to share that the classes are geared to address all kids' needs and are incredibly helpful for students with challenges. "Because I'm focusing on my current students during the assignments, I have a better plan of support for them. I am thinking about my students and writing and reflecting about them through my homework outside the classroom. I'm not just spending time worrying about them; I am able to take action, bring in the right supports and teams and better serve them."
This program is also a collaborative process. While best practices and evidence-based research are shared with educators, there is also an opportunity for educators to evaluate the courses and provide feedback so that the Ballmer Institute faculty can adjust, refine, and continue to improve to ensure they are providing the most responsive and relevant tools and information.
"Educators are lifelong learners who recognize when adjustments need to be made and how to best make them," said Erin Darling, Columbia River Gorge Elementary School Dean of Students in the Washougal School District. "If more teachers had this knowledge, it would change the classroom."
In fact, leaders from around the region are already looking for ways to get more of their educators into the program next fall.  "When I see how impactful this value is, I am rearranging my budget now and being innovative to find ways to fund this for more of my educators," said Tracey Maclachlan, Director of Teaching and Learning, Washougal School District. "The educators in my district cannot wait for their Tuesday night class because they know by Wednesday morning, they will have new tools to help in their daily work."
This offering for local educators comes at a time when the need for child mental health care is at an all-time high. Through the research-based courses this microcredential offers, educators can apply what they're learning into their daily experiences inside classrooms and school settings as they're learning it, immediately benefiting students.
"In the three years I have been dean of students in Washougal, I have seen teachers running out of tools and support. Interventions that once worked are not enough to manage student behaviors impeding classroom teaching and learning. I knew the opportunity to attend a graduate program focused on children's behavioral health would give me more of the tools I need to make a positive impact on students today, and the Ballmer Institute's course on developing and maintaining healthy relationships gives teachers the skills to manage tough relationships. It is an invaluable resource," Darling said.
While the lessons, readings and assignments are rigorous and an additional load on top of full-time work, educators continue to share how impactful and worthwhile the classes have been for them.
"I am a veteran teacher with 23 years of experience teaching middle school in Portland Public Schools. The professional development I received from these classes was the best I have received in years and was exactly what I needed to energize my teaching and instruction," said Heather K. Siegfried, Ockley Green Middle School 6-7 Social Science.
"Even more importantly, the class's content was presented through a cultural and trauma-informed lens that greatly matches the population of students I work with daily," added Brenna Sheridan, dual MS in Special Education and Elementary Education at Ockley Green in Portland Public Schools.
Classes are enhanced by lively discussions and opportunities to connect and collaborate with their peers through breakout groups called communities of practice where students are matched by school, general grade range, and sometimes by role. During these breakout groups, educators can hear from each other about how they apply the lessons and information in their classrooms and schools.
"The opportunity to discuss hard topics and hear how other educators are using this information in their own classrooms is very rich," said Darling. "In our communities of practice, we hear lots of views and get lots of ideas from each other. We are problem solving together and learning from each other."
With the program coming to a close for this academic year, the positive impacts are already apparent from the first group of participating educators. The next series of the graduate microcredential coursework will begin in the upcoming fall quarter of 2023. The program will continue to be offered in partnership with school districts in order to increase access to educators.
For the inaugural year, this program was supported by a combination of gift funds provided by Connie and Steve Ballmer of Ballmer Group Philanthropy, additional donor funds, and school district funding. Interested school districts should contact the Ballmer Institute at ballmerinstitute@uoregon.edu for more information.